Business Online Banking
Manage your cash online. Hometown Bank provides a convenient, secure way to access account information, payroll delivery and funds transfer services.
Why bank online?
Conveniently view your account balances and activity
Efficiently manage payments, transfers and deposits
Securely access accounts and customize security levels
Receive personalized support from Hometown Bank
Video Demo
See for yourself how convenient it is for your business to bank online.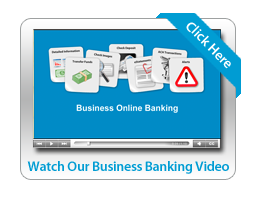 Create customized alert messages for low account balance, specific activity, reminders and more
View history of debit and credit activity
Transfer funds between accounts
Schedule recurring transactions
Place your own stop payments
Take control with powerful reporting capabilities
Use the account activity report to view scheduled and completed transactions for a specific date or range you specify

Access up to 90 days of records
Includes check images

With the account summary report, review account balances on all business accounts for the current business day

Ledger balance
Available balance
Credits and debits
Manage loans/lines of credit
Perform payment and advance transactions
View all existing loan and credit line balances and activity
Choose payment options, including principal only
Advanced security*
Unique user IDs can be used to control access at various security levels
Set up multiple authorization levels and approvals
*Businesses should perform a risk assessment to evaluate usage of online banking within their organization. Controls should be exercised relative to delegation of authorities and responsibilities of personnel. A timely and structured review of those controls is recommended as well.